JOURNEY TO MT. SHASTA WITH ME
July 21-23, 2017
I love that I can offer you to come and share Mount Shasta with me in 2017. It was a magical time with our previous group. Join me and a guide as I return to this sacred portal — Mt. Shasta in Northern California as first commanded by Archangel Michael several years ago. This alchemy retreat is for beginners as well as advanced energy workers alike–open to anyone looking into becoming a Conscious creator for yourselves, for the planet and others. This is the time we have waited for to create peace, harmony and unity!
Visit Fairy Falls •  work to restore lei lines •  matrix  and harmonic code work to help heal various illnesses on our planet  •  easy hike to St. Germain Ring to work with the violet flame to receive vision for your life  •  interplanetary shape shifting •  time travel  •  elemental energy work  • channeling of Mother Earth  •  Star Beings  • visit a portal into the Inner Earth  • work with the divine feminine in the peace garden  •  (optional sweat lodge ceremony, mineral springs and bath) • introspective exercises to expand your inner knowing • guided meditations   • make new friends!  •
 Registration is open now and ends May 31st, 2017.
IT'S TIME TO INVEST IN YOU!
Are you coming?  
YOUR SPECIAL MT. SHASTA IMMERSION:
Early bird special through Jan. 31st 2017: $679.00 per person. You may use the direct link to register now!
https://www.paypal.me/kellyahampton/679.00
After Jan. 31st your alchemy weekend retreat will be $729.00 per person via check or money order within the USA.When paying by c.c or paypal a 3.5% processing fee will be added.
https://www.paypal.me/kellyahampton/755.50
Check or money order may be made payable to Healing Enterprises LLC. Full payment in advance is expected at the time of your reservation. Additional fees may be incurred for monetary conversion for charge payments to US dollars. All course fees are in USD. For more information including where to send your check or money order, contact Kelly's office at http://kelly@kelly-hampton.com
Cancellation Policies:
In case of cancellations by the client, Healing Enterprises LLC will refund the following percentages:
30 days before the date of departure 100% (minus 3% for administrative costs)
29 days before the date of departure we cannot give any refunds.
Disclaimer and what is NOT INCLUDED in your Alchemy Event: Transportation to and from your home to Mt. Shasta, CA, food, lodging, car rental, and personal items.  We reserve the right to refuse attendance to anyone. You must be in good physical condition as we will be spending time outside in nature and hiking some. We are not able to accommodate handicapped individuals on this trip or children under the age of 16. Attendance is at your own risk and a signed release form is required once we arrive. While this is a learning event, recording or sharing of any type of the material presented during this event is prohibited except for personal use. We won't be traveling to any places which require a 4 WD though will firm up meeting places later in an effort to carpool. Fairly accurate weather forecasts can be obtained from www.noaa.gov, search Mt. Shasta, zip code 96067
We can suggest places for your lodging.
To be placed on my newsletter detailing our itinerary  and more, subscribe here: http://kellyhamptononline.com/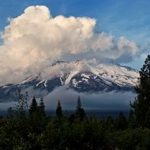 SIGN UP TODAY to avoid disappointment!
Summer is the busiest time of the year at Mt. Shasta.